Notice: Undefined index: abc_story_image in /var/www/web/wp-content/themes/abc/single.php on line 22
NEO Synthetic Oils and Greases here at ABC!
NEO Synthetic Oils and Greases here at ABC!
We are the approved European supplier for NEO Synthetic Oils and Greases and they are now available online from ABC Autosport Bearings and Components!
The full line of NEO's 100% Synthetic Racing Oils and Greases are a chemistry blend of lubricants, designed to have the exceptional capability to target and provide unmatched lubricating to a specific area or application in need of severe protection.
This consequently supplies general high-performance lubricating needs, with protection way beyond the limits of what is necessary. 'Advantage' is what all race teams continuously search for and word spread fast that NEO Racing Lubricants were enabling several race teams, including a large number of the top Formula 1 teams in Europe, the opportunity to overcome some genuine problems they were experiencing. The Formula 1 program was the springboard back in 1985, when Team Benetton approached NEO with a severe constant velocity joint problem, where they reported the recurring annoyance of not being able to finish races due to failing C. V. joints.
NEO Synthetic Oils and Greases not only cured the problem but extended the life of the C.V. joints by 500% and enabled Team Benetton to go on and win the 1986 Mexican Grand Prix. Very soon after, March Engineering (At the time the World's largest racecar manufacturer and supplier of Indy Car gearboxes) heard about NEO and after extensive testing, gave NEO Lubricants the exclusive recommendation as the only lubrication to run.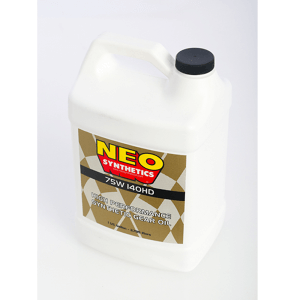 Currently, NEO Racing Lubricants are being tested and used by the top NASCAR, INDYCAR, Formula 1 and GP2 teams as well as several SCCA and ALMS competitors. Interest continues to grow because of NEO's successful track record and innovative developments like LW 18 Gear Oil.
Click here to see our NEO Synthetic Oils and Greases here at ABC or give our ABC (Autosport Bearings and Components Ltd) Team a call on +44 (0) 1932 225 777 now.