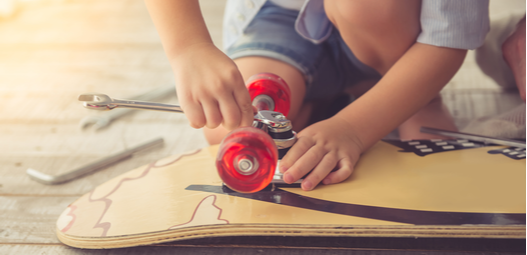 We know how important it is to be on top form. This is why we have extensively researched to produce one of the best skateboard bearings on the market. These all-round bearings perform in all conditions, suitable for all skaters and riding styles.
Skate Bearings in High Performance:
When developing skateboard bearings, there are many qualities to consider. The higher the ABEC rating, the lower the tolerances are when the Bearing is manufactured. Meaning that an ABEC 1 Bearing, although extremely cost-effective, will not perform as well as a higher ABEC rated Bearing. When most skating is done at around 4,000RPM, ABEC 5 is MORE than what you need!
Ramping it up from an ABEC 1 and giving an extensive tolerance, the ABEC 5 will all the boxes in terms of cost, durability, weight and speed. Unlike an ABEC 1 or 3, the ABEC 5 bearing will glide and continue to do so with minimal effort giving ultimate stability (crucial when skating). For a tough deliverer, this bearing is for you!
We've worked hard to develop and produce some of the best skateboarding bearings on the market. Our own brand of skate bearings – the BOLT ABEC 5 bearings – are ideal skates and skateboards in all capacities, with extensive tolerance in terms of cost, durability, weight and speed. They are aesthetically pleasing too, available in multiple colours.
When you're skating whether professionally or just as a hobby with your friends, you want to be at your best no matter what. ABEC 5 bearing classes are cost effective and get you to a fast speed for a fraction of the cost.
How to remove bearings from skateboard wheels
Removing bearings is really easy. You'll need a combination wrench to start with – but this is the only bit of equipment you'll need! No expensive purchases to be made or technical expertise to learn.
Turn the skateboard on its side and begin to unscrew the bolt and washer attached to the wheel. Remember to use a wrench that is the same size as the nut otherwise you'll wear the head out and make it really difficult to replace.
If you're replacing your wheels, you may want to replace your bearings too. These are really, really easy to fit.
Here's how to fit new bearings to your skateboard:
Place and push one of the bearings into the wheel
Push the other bearing onto the side of the truck (with the rubber part facing the truck)
Push the wheel onto the truck (with the rubber part of the bearing facing outwards)
Place the washer and nut onto the outside of the wheel
Use your wrench to tighten it as much as possible
Repeat on all wheels around the skateboard
When you buy your new skateboarding bearing set from Autosport Bearings, you'll receive a colour-coded tin to match the bearing of your choice, which comes as a set of 8, on the basis of two bearings per wheel.
Head online to speak to one of our experienced team or to order straight away about getting your hands on one of these awesome sets with its own colour coded tin, or to mix and match the colour sets.
The TECHNICAL bit… what are they made from:
Material – Carbon Steel
Dimensions – 8mm x 22mm x 7mm (skateboard standard)
Metal shielded
Supplied in sets of 8 (for each board has 4 wheels, with 2 bearings per wheel).
ABEC Rating Explained:
The ABEC scale is an industry accepted standard for the tolerances of a ball bearing. There are a few classes from largest to smallest tolerances. There is no ABEC 11 standard despite the claims of some sellers. The higher ABEC classes provide better precision, efficiency and greater speed capabilities
ABEC 1 – Tend to be the least expensive, the crudest, and the least accurate. The quality of the steel is not very high
ABEC 3 – Are generally inexpensive and do not roll smoothly or quickly
ABEC 5 – Bearings are standard for most types of skateboarding. This rating gets you a fast speed at an affordable cost!
Generally speaking, bearings are composed of a basic set up, a ball within an internal or external ring. The main difference is the amount of force given to the bearings, often referred to as the 'loading weight'. As such, ball bearings handle smaller weight loads, and roller bearings handle the heavier duty loads.
A ball bearing handles a thrust and radial load so that they can handle properly when in motion. It ensures that the load is transferred from the outer to the inner. As the name implies, the roller is not a sphere but cylindrical in shape so that contact between the outer and inner race is a straight line.
Roller bearings, on the other hand, are designed for a heavier load as they are based primarily around a cylinder. This means that the bearing is able to distribute loads over much bigger areas than a ball bearing.
Needle roller bearings provide stiffness within the bearing which has a minimum axial space. Needle roller thrust bearings take up no more space than a thrust washer. A needle roller bearing is the most economical type of bearing as there are loose needle rollers assembled directly between a hardened and ground shaft. Hardened end washers provide an axial location. They use long, thin cylindrical rollers which resemble needles. Are you building your own project but need some bearings to help you on your way? Head over to our product section to order yours today.